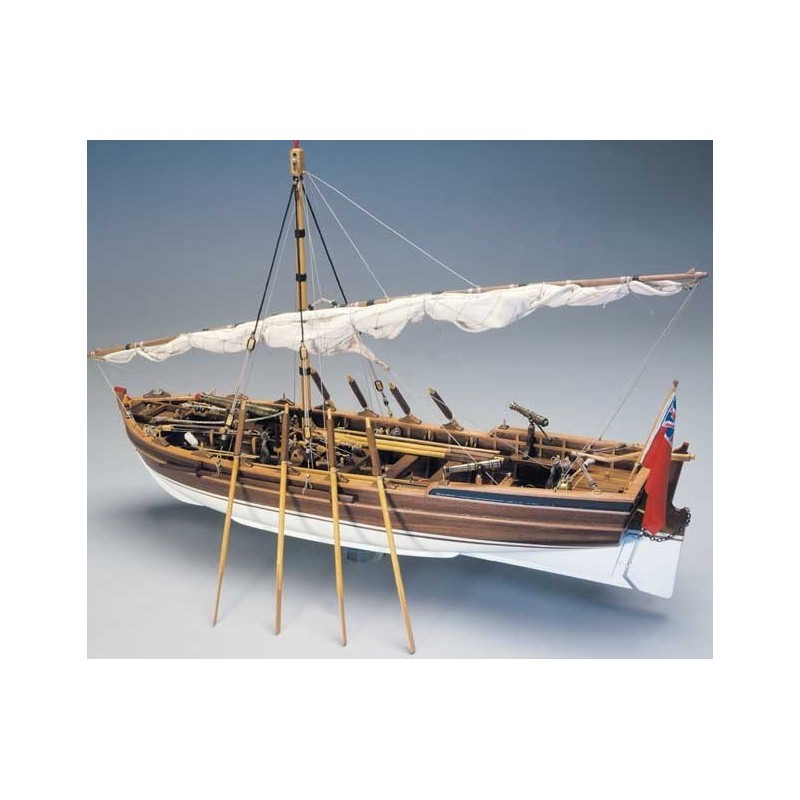  
Armed Pinnace Lancia Armata 1800
Armed Pinnace Lancia Armata 1:16 Scale
Manufacturer Mantua Model code 748
Armed Pinnace Lancia Armata 1800
This model is an exact reproduction of a 10 meters long armed launch, which was used by the different navies during the 19th century.
These launches were armed with naval guns of different calibre and type; in the bow section a cannon or carronade was installed while in the stern two more light, small cannons were placed to be aimed by hand.
Usually, these boats were employed in coastal patrols or in escort services but, also demonstrated their wartime capacity in surprise actions attacking craft in difficulty or anchored or at roadstead.
Due to their remarkable manoeuvrability, they were also in great numbers employed during landing actions, preceeding the main fleet which moved slower and was more vulnerable.
The bow cannon, placed on a wooden structure, attached to the first benches, slid back and forth, recoiling on two slits made on the two carrying guides and was manoeuvred by two forward and aft placed tackles.
The marksman occupied himself to raise the cannon while the helmsman was responsible to align the bow at the target.
Mast and sail during the surprise actions were lowered on the benches to proceed and use the oars and to delay as long as possible the interception from the part of the enemy.
The Panart kit features a triple plank on frame hull construction, building plans with general details English instructions, walnut and lime planking, wooden masts and spars, brass and walnut fittings, Sailcloth, rigging cord and silk flag.
All sheet ply sections are laser cut for accuracy.

Scale 1:16 Length 620 mm Height: 457 mm
Customers who bought this product also bought: