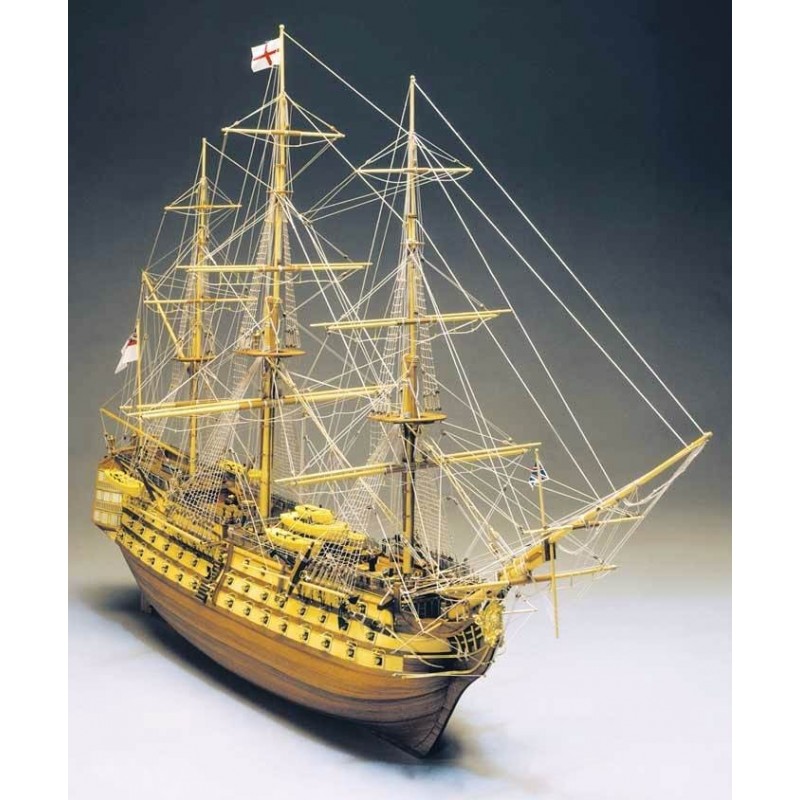  
HMS Victory
HMS Victory Nelson flag ship 1:98 Scale
Manufacturer Mantua Model code 776
HMS Victory 1:98
HMS Victory is a 104 gun ship of the line of the Royal Navy, built between 1759 and 1765.
She is the oldest naval ship still in commission and the only remaining ship of the line.
She sits in dry dock in Portsmouth as a museum ship.
In December 1758, the commissioner of Chatham Dockyard was instructed to prepare a dry dock for the construction of a new 100 gun first rate ship.
The outline plans arrived in June 1759 and were based on HMS Royal George which had been launched at Woolwich Dockyard in 1756.
The keel was laid on 23 July 1759 in the Old Single Dock and the name was finally chosen in October 1760.
It was to commemorate the Annus Mirabilis or Year of Victories, of 1759.
She was commissioned in 1778 under the command of Rear Admiral John Campbell (1st Captain) and Captain Jonathan Faulknor (2nd Captain), with the flag of Admiral the Honorable Augustus Keppel.
She was armed with smooth bore, cast iron cannon 30 x 32 and 42 pounders (15 and 19 kg), 30 x 24 pounders (11 kg), and 40 x 12 pounders (5 kg).
Later she also carried two carronades, firing 68 lb (31 kg) round shot.
In March 1780 the hull below the waterline was sheathed with 3,923 sheets of copper to protect it against shipworm.
Extra gun ports were added, taking her from 100 guns to 104, and her magazine lined with copper. Her figurehead was replaced along with her masts and the paint scheme changed from red to the black and yellow seen today.
Her gun ports were originally yellow to match the hull but later repainted black, giving a pattern later called the "Nelson chequer" and which was subsequently adopted by all Royal Navy ships after the Battle of Trafalgar.

The Mantua HMS Victory kit features a double plank on frame hull construction, building plans with general details, English Instructions, lost wax brass castings, walnut or lime planking, wooden masts and spars, brass and walnut fittings, etched brass details, rigging cord and silk flag. Now revised with laser etched stern galleries.
All sheet ply sections are laser cut for accuracy.

Scale 1:98 Length: 1070 mm Width: 350 mm Height: 735 mm
Customers who bought this product also bought: