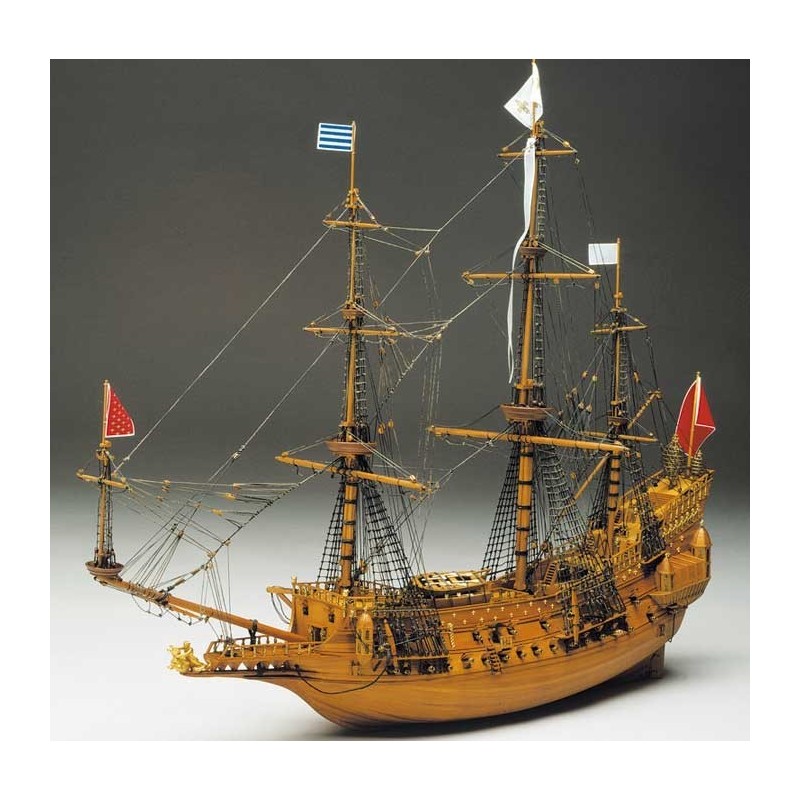  
Couronne
Couronne 1636 French warship 1:98 Scale
Manufacturer Mantua Model code 778
Couronne
French Warship 1636.
Le Couronne was an emblematic flagship of the French Navy built in 1636 by Cardinal de Richelieu.
La Couronne was the first man of war built by the French themselves in accordance to Richelieu's plans to renew the French Navy, after a series of ships built by the Dutch.
The contraction was overseen by the famous carpenter Charles Morieur, from Dieppe.
She one of the most advanced vessels of her time.
She was equipped with 68 heavy guns, 8 firing to the bow and 8 to the aft, an unusual feature until Dupuy de Lôme redesigned naval artillery.
The Couronne took part in the siege of Hondarribia in 1638, and another expedition to Spain in 1639 under Henri de Sourdis.
This Mantua construction kit is suitable for the expert and careful modeller.
The plan was drawn from the French period books.
The Mantua kit features a plank on frame hull construction, utilising walnut, maple and lime woods.
Figure head, caryatids, angels and other onamentations in cast or pressed brass.
All dead eyes,blocks,etc in walnut.
Flags printed on silk, standing and running in black and natural rope.
All lanterns,cannon,anchors,hinges and strops made in metal.
Fully detailed building plans with English instructions.
Scale 1:98 Length 760 mm
Customers who bought this product also bought: